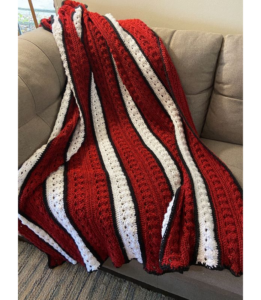 Last night I finished making a blanket. I'm not posting a picture of it here because it's a Christmas gift for someone who sometimes reads these weekly musings. So the picture above is of another blanket I made in the Fall. I crochet in the evenings—not every evening and not all the time. My desire to crochet has waxed and waned over the years, but this past year found me searching through patterns and picking up my hook more than usual.
Somehow, going through the motions of looping and twisting and pulling yarn into stitches helps unwind and untwist a lot of the things that pull my mind and spirit out of sorts. Seeing a pattern take shape and watching the progress of a project is soothing and rewarding. Some projects take longer than others. Some require more focus, but everyone lets my mind and body fall into a rhythm that then becomes a prayer.
I often say each stitch is a prayer—a hope or blessing for the person that will receive my jumble of yarn that's somehow become something useful or beautiful or both.
I think that's how prayer works. We take our jumbled words and out-of-sorts selves to God and the Spirit breathes magic and hope and peace into the mess. She loops and twists us into shapes we didn't think possible. She pulls us in directions we wouldn't have thought to go. She makes something beautiful out of our willingness to let her breathe life into our lives.
Sometimes I mess up. I mess up a stitch or count wrong. Sometimes it's an easy fix, but sometimes I have to take whole rows, undoing everything I accomplished that night to fix a mistake I made because I wasn't paying attention or misread the instructions. That's always frustrating. But even in the unraveling, I give thanks for the grace to fix big and small mistakes alike.
Whenever my hook is in my hand, I give thanks for the Spirit that created a beautiful world, breathes life into beautiful people, and is at work bringing people together into beautiful communities. Whether it's through walking or gardening or baking or stretching or snoozing, I pray you experience the presence of the Spirit's peace and the animating force of her passion.
In Love,
Pastor Annette