food pantry news
12 Days of Pantry
Bless our pantry guests by donating all or any of the items below in any quantity it is possible for you to give.
1.  Canned corn                                                          7. Pasta
2.  Dried beans                                                           8. Spaghetti sauce
3.  Canned fruit                                                           9. Canned soup
4.  Applesauce (jars or cups)                                   10. White rice
5.  Tuna                                                                       11. Sugar
6.  Macaroni and cheese                                          12. Brownie mix
If you would like to donate some non-food items as well, we could also use the following:
Diapers          Baby wipes
Dish soap       Laundry detergent
Body wash     Shampoo
Hand soap     Toothpaste
agapè christmas cookie sale
It's that time for our sweetest and favorite fundraiser The  Agapé Christmas Cookie Sale! The cookie sale will be held on December 3rd. If you would like to support this wonderful effort, we are kindly asking that you bake about 4-6 dozen cookies. If your family has a favorite cookie that they make for Christmas, we would love for you to share them with us!
The link below is the sign-up sheet if you are able in baking for us.
Agape Cookie Baker Sign Up
world mission offering
This month, CBC will be taking donations for World Mission Offering. You may place your donation in the offering plates during worship or mail them to the church office. Please make your check out to CBC and note WMO in the memo line.
For more than two hundred years, International Ministries (also known as the American Baptist Foreign Mission Society), has combined resilience, adaptability, and creative approaches to cross-cultural ministry with faithfulness to Scripture. We serve together with and learn from our many local partners in ministry around the globe.
Your donation to the World Mission Offering supports the work of Global Servants such as Katherine & Wayne Niles and Kathy & Tim Rice do to provide health care, clean water, administration, and more in mission hospitals in the Democratic Republic of the Congo. Another example is the work of Global Servants J.D. & Rhonda Reed and Sarah Matos, as they work alongside local partners and fellow global servants to offer medical clinics in Bolivia and to lead the Master of Theological Studies program that is preparing Christian leaders throughout Iberoamerica.
These stories offer a glimpse into what God is doing through International Ministries' 120+ global servants, volunteers, home staff, and 250+ international partners in 70 countries. More information can be found at World Mission Offering
christmas

sharing
Christmas Sharing time is here! Distribution will be on December 8th at DuPage County Fairgrounds. We are collecting toiletries and household products, as well as winter coats. Volunteer help is welcome both for processing CBC donations, as well as for organizing and distribution at the distribution site. Financial contributions are also welcome. Here are all the details. For additional information, please contact Barb S. Wendy, Pam W. or Jan O.
Donation of toiletries and household items: our goal is to provide 15-20 Sundry Boxes which may include laundry detergent, a roll of paper towels, 4 pack of TP, 4 pack of toothbrushes, toothpaste, bar soap, floss, feminine hygiene or first aid products. Products are not brand specific or size specific – just basic personal care items. A collection box will be by the coat racks through December 4.
Donation of Winter Coats: all sizes needed, but primarily Adult sizes SM/MED/LG for teenage recipient. New coats are very welcome. Used coats should be in good condition with working zippers and no rips or stains.
Volunteer: Our Missions Team will need help sorting and organizing our donations. Help is also needed at the distribution site on Wed, Dec. 7th for set-up and Thu, Dec. 8th for distribution. Please let Barb, Wendy, Pam or Jan know if you can volunteer.
Financial Contributions: donations will be used to purchase gift cards and supplement the food donations provided by Northern Illinois Food Bank. You may contribute by check, payable to Christmas Sharing, note CBC Warrenville in the memo line, and place in the offering plate. You can also donate directly at Christmas Sharing Website. Please designate CBC Warrenville if donating through the website.
Let's help all of our neighbors have a Merry Christmas!
Food pantry updates
December is Pineapple Month! In many cultures, serving pineapple is a sign of hospitality and is in high demand at the Food Pantry. All types of pineapple are welcome. Any other non-perishable food items are also welcome. See our list 12 Days of Pantry at the top of the page for our most requested items. Thank you to everyone who donated baking supplies in November!
UPDATE Big news! So far in 2022, CBC has donated, drum roll please, over ONE and a HALF TONS of food and household supplies! Thank you to everyone who has so generously supported our local food pantry. The pantry is running low on diapers, sizes 3, 4, and 6 and would appreciate donations to help our tiniest neighbors.
christmas offering 2021 – helping the afghan people
Update 3 – Another disbursement has been made. The funds were provided to a young woman who escaped Afghanistan and made her way to the US to live with a family member.  She will use the money to help with fees required to obtain work documents.
Update 2 – We have made our first distribution from our Afghan Assistance Fund. The funds were provided to a family who has escaped to Pakistan to pay their rent for one month.
Update – We've received $5500 for our Christmas Offering! You may still contribute if you wish. The people of Afghanistan are in dire circumstances since the US withdrawal. The Taliban is targeting journalists, activists, educated women, anyone who worked with the US Military, and more. Even those who had financial resources can no longer access them due to unstable government and risk of exposure to the Taliban. We seek to help these people get to safety, and pursue lives in the US, if they wish. Please make checks payable to CBC and include "Christmas Offering" in the memo section. Donations can be placed in the offering plates at any upcoming service. You may also donate online through the Givelify Button on our home page. Our Christmas Offering will support the following initiatives:
Evacuation from Afghanistan– passport & visa fees, transportation costs, temporary living expenses.
US Government applications fees for immigration proceedings to obtain status as refugees, permit entry to the US, and pursue citizenship.
Resettlement assistance for families relocating to our area. Help with establishing households and assimilating into our community.
Agapè wish list
You can now support our Agapè Preschool at any time using Miss Jayne's Wish List. The ongoing Congregation support of our Preschool is always a blessing!
Update your contact iinformation
We're working on updating contact information for our church family. Information sheets to be completed are available at Worship Services. You may also contact the church office to receive one. Please return your completed form by dropping in the collection plate or the church office.
food pantry annual calendar
Plan ahead with our handy dandy donation calendar!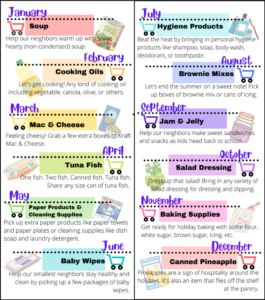 worship Services – New in-person guidelines & Continuation of livestream
Moving forward, as we continue to worship in person in conjunction with the livestream, the Coordination Team  will continue to review our guidelines each month and make changes as we continue to care for the safety and well-being of everyone.
The State of Illinois has suspended the indoor mask mandate. Mask wearing is up to the discretion of the individual. Extra masks will be available in the narthex. Please be safe and help keep yourself and others protected.
We have reinstated our beloved post-service Fellowship & Refreshment Time! Fellowship Hosts are always welcome, the sign up calendar is back and available in Fellowship Hall.
As always, we appreciate your prayers and are grateful for your support during this time of discernment.
esse updates
The ESSE Adult Daycare Program has suspended service at our location. Other locations are available.  If you know of someone or a family that could benefit from a loving and supportive community for senior adults, please contact them at 630-791-9319.
Join our email list
Do  you receive our weekly email updates? They are chockful of details about events, inspiring thoughts from Pastor Annette, scriptures for upcoming services, prayer requests, and more! Just call the church office at 630-393-9609 to be added to our list.
5th Thursday at the Food Pantry
On Thursday, Dec 29th, at 5:00 PM, join our volunteer crew at the Warrenville Food Pantry. Newbies welcome, it's fun and with a quick training you're ready to go.
Ongoing Food & Toiletries Drive
The Missions Team is sponsoring a food drive for the Warrenville Food Pantry on the first Sunday of each month. Donation of non-perishable food items are welcome. Priority items at the moment are condiments, dessert mixes, icing and other baking supplies (except canned pumpkin). All types of toiletries are also in high demand – toothpaste, toothbrushes, deodorant, soap, shampoo, diapers of all sizes, and toilet paper.  Collection box is located by the coat racks.
Food Pantry Volunteers
Volunteers are needed for the community food pantry at Immanuel Presbyterian Church on Batavia Rd in Warrenville. Workers are needed when the pantry is open on Tuesday mornings, Thursday evenings, and Sunday afternoons, as well as for food rescue and shelving on Friday and Saturday mornings. To volunteer, or for more information, please contact Renee at warrenville.pantry@gmail.com.
Cans for Agapè
Tom G. continues to collect aluminum cans for recycling with the proceeds going to our Agapè Preschool. You may support this ministry by depositing your empty cans in the labeled bin in the Education Building.