Agapè Restaurant Fundraiser at Corner Bakery Cafe
Tuesday, April 23rd, head over to Corner Bakery Cafe, 28258 Diehl Rd, Warrenville for breakfast, lunch, or dinner (or all three). Corner Bakery will donate 15% of your purchase to our Agapè Preschool. Click here to print you flyer and bring it to the restaurant Corner Bakery Flyer
 Easter Memorial Garden Flowers
Memorial flowers for our Easter display can be purchased for $13 each. Choice of lilies, tulips, or daffodils. Please submit order and payment to the church office by Friday, April 12th.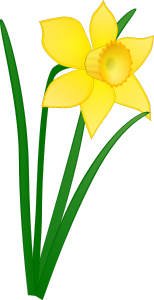 Spring Clean-Up
It's that time of year again! Time to spiff up inside and outside of the church. Saturday, April 13, starting at 9:00 AM. There will be doughnuts! If you'd like to help, but can't make the 13th, please contact Bill K. for a list of tasks that could be done on your own schedule.
5th Thursday at the Food Pantry
On Thursday, May 30th, at 5:00 PM, join our volunteer crew at the Warrenville Food Pantry. Newbies welcome, it's fun and with a quick training you're ready to go.
Ongoing Food & Toiletries Drive
The Missions Team is sponsoring a food drive for the Warrenville Food Pantry on the first Sunday of each month. Donation of non-perishable food items are welcome. Most needed are canned vegetables, chunky soups, ketchup, mustard, BBQ sauce, and mayonnaise. All types of toiletries are also in high demand – toothpaste, toothbrushes, deodorant, soap, shampoo, diapers of all sizes, and toilet paper.  Collection box is located by the coat racks.
Food Pantry Volunteers
Volunteers are needed for the community food pantry at Immanuel Presbyterian Church on Batavia Rd in Warrenville. Workers are needed when the pantry is open on Tuesday mornings, Thursday evenings, and Sunday afternoons, as well as for food rescue and shelving on Friday and Saturday mornings. To volunteer, or for more information, please contact Renee at warrenville.pantry@gmail.com.